2012年05月04日
5/4(金)
★新入荷タイトル一覧
★THE HAVERBROOK DISASTER VS DEMORALISER - Split
★SHOWYOURTEETH - Forecast
★THE BLACKOUT ARGUMENT - Detention
☆再入荷タイトル一覧
☆SHOWYOURTEETH - World Denier
☆TILL WE DROP - The Summer Triangle
☆A TRAITOR LIKE JUDAS / MAINTAIN - Split
☆THE HAVERBROOK DISASTER - Hopeward Bound
☆POISON MY BLOOD - The Great Northern
☆UNDER SIEGE - Days Of Dying Monuments
☆SAVING THROW - We're Never On Good Terms With The Light
☆DEAFENING SKY - Maybe The End
☆RUN WITH THE HUNTED - Everything Familiar
☆VARIOUS ARTISTS - Open The Cages
☆ONE ETHIC - Part One: The Hive
☆FAKE OFF - Appalling Options
☆FIRE AT WILL - Hoping For The Best...Expecting The Worst
☆SAMSARA - The Emptiness
☆TEAMKILLER - Bound To Samsara
☆FEET FIRST - Heaven Home Hell
5/3(木)
★新入荷タイトル一覧
★LAZARE - La Haine Tシャツ
★LAZARE - Guillotine Tシャツ
★5 BLOCKS - S/T
★4 WAY SPLIT - Ocean Of Ashes
★DORIAN GREY - S/T
★ALL HEADS RISE - No Hope No Cure
★RISE OF THE NORTHSTAR - Tokyo Assault
☆再入荷タイトル一覧
☆PURGATORY - For The Love Of Violence
☆PURGATORY - Hate And Fear
☆LAZARE - LZR
☆FOR MY ENEMY - Dark Days
☆REDOUND - Upon You
☆SCREAMIN SILENCE - Bad Mood
☆KING OF CLUBZ - Outlast
☆MAROON - Antagonist
☆CATARACT - Martyr's Melodies
5/1(火)
★新入荷タイトル一覧
★TERROR - Cursive スナップバックキャップ
★FIRST BLOOD - Limited スナップバックキャップ
4/30(月)
★新入荷タイトル一覧
★LOYAL TO THE GRAVE - Against The Odds
★WAR CHARGE - S/T
★UNITED YOUTH - Something 2 Prove
★PEACE - S/T
★WREAK HAVOC - Drawing Inspiration
★SHOOK ONES - MerriweatherPostPavilion b/w Fancy
☆再入荷タイトル一覧
☆UNBENDABLE FUNZINE - Issue 1
☆LOSIN' IT - Danger Zone
☆SOUL SEARCH - Intolerable Weight
☆WRONG ANSWER - The Wrong Way
☆LIGHT YEARS - Just Between Us...
☆DAYBREAKER / THE AMERICAN SCENE - Split
☆TITLE FIGHT - Shed
☆COLD WORLD - Dedicated To Babies Who Came Feet First
☆NO TURNING BACK - Reaching Forward
☆S.O.S. - I Owe You Nothing
☆STAY HUNGRY - Against The Wall
☆ALERT - Demo 2008
☆MILES AWAY - Memory Embraced
☆A DAY TO REMEMBER - Old Record
☆PARKWAY DRIVE - Killing With A Smile
☆WAR OF AGES - Eternal
☆IVY LEAGUE - S/T
☆THE AMERICAN SCENE - By Way Of Introduction
☆TRANSIT - This Will Not Define Us
☆CALL TO PRESERVE - Validation
☆RECON - Graves
☆MILES AWAY - Consequences
☆TERROR - Forever Crossing The Line
☆BETA MINUS MECHANIC - Disassembly Required
BLOODAXE FESTIVAS 2012 1st ANNOUNCE!!!!!!!!!!!!!!!!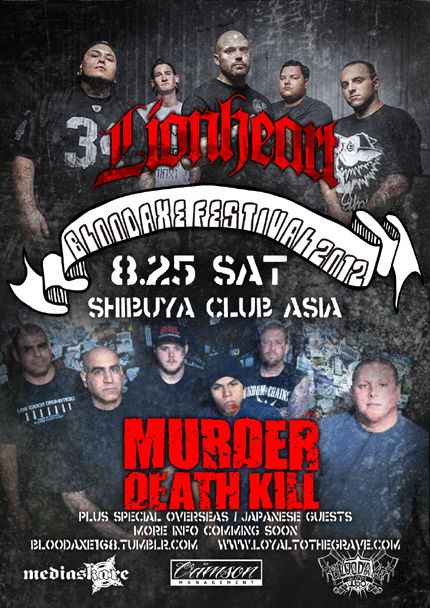 4/28(金)
★新入荷タイトル一覧
★KING NINE - Demo Cassette
★VICE - Grievances EP
★SUBURBAN SCUM - Beaten From birth
★TERROR - No Regrets No Shame: The Bridge Nine Days CD+DVD
★WISDOM IN CHAINS - The Missing Links
★WAR OF AGES - Return To Life
☆再入荷タイトル一覧
☆STICK TO YOUR GUNS - Diamond
☆UPON A BURNING BODY - Red. White. Green.
☆SUBURBAN SCUM - Internal War
☆HEATBEATSTILL - Transcendence
☆SEARCH BLOC VS NOT WITHOUT RESISTANCE - Split
☆EARTH CRISIS - Neutralize The Threat
☆TERROR - Keepers Of The Faith CD+DVD Limited Edition
☆BACKFIRE - My Broken World
☆SEARCH BLOC - Straight Edge Omerta
☆SCREAM OUT LOUD - Live It Up
☆BENEATH THE MASSACRE - Incongruous
☆MISS MAY I - Monument Deluxe Reissue
☆APATIA - Odejdz lub zostan
☆APATIA - 100% Vegeterian Band
☆BETWEEN EARTH & SKY - Of Roots And Wings
☆BULLDOZE - The Final Beatdown CD+DVD
☆FATALITY - N.Y. State Of Mind
☆KING OF CLUBZ / PROVIDENCE - Split
☆CASEY JONES - I Hope We're Not The Last
☆MILES AWAY - Endless Roads
☆TROUBLED COAST - Letters
☆NASTY - Give A Shit
☆FALLBRAWL - Cold World
☆SETTLE THE SCORE - Five Knuckle Philosophy
☆TRAPPED UNDER ICE - Big Kiss Goodnight
☆KING OF CLUBZ - The End
4/24(火)
★新入荷タイトル一覧
★TERROR - Cursive スナップバックキャップ
★TERROR - TERROR VS BLVCK SCVLE Tシャツ
★TERROR - Infamous Tシャツ
★TERROR - Keepers ベルト
★TERROR - Mr Dibbs Tシャツ
★TERROR - KOTF Crew Tシャツ
★XIBALBA - Cali Crewneckスエット
☆再入荷タイトル一覧
☆MOST PRECIOUS BLOOD - Do Not Resuscitate
☆RETALIATE - Thorns Without A Rose
☆POWERWOLVES - You Won't Find Peace
☆DESERTERS - Fail Yourself
☆BETRAYAL - Abandonment
☆NOTHING TIL BLOOD - When Lambs Become Lions
☆XIBALBA - Madre Mia Gracias Por Los Dias
☆FIGHT IT OUT - Depression
☆VENIA - I've Lost All Faith In Myself
☆NO VALUES - United We Die
☆PIECE BY PIECE - S/T
☆THIS IS HELL - Black Mass
☆FOR THE FALLEN DREAMS - Relentless